Open Gallery

Gabriela Kirschner
Manager & Herbal Specialist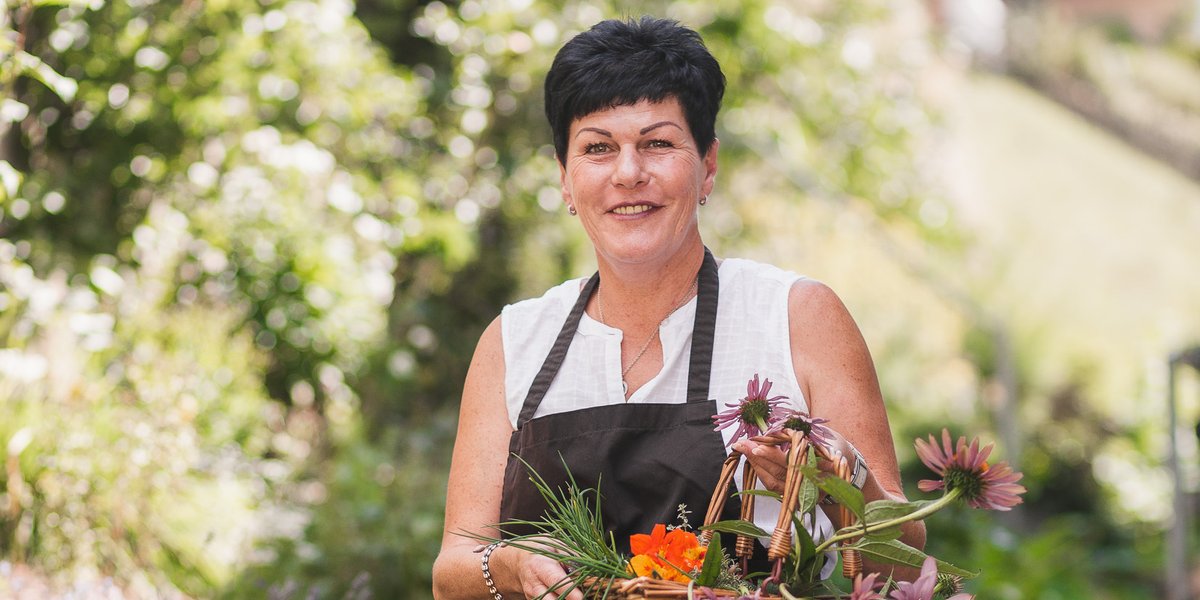 From Dishwasher
To Hotel MAnager
"You can achieve a lot
if you stick together."
"A girl doesn't have to learn anything!" That's how they used to think in Langesthei, a tiny village with only a handful of residents deep in the Paznaun valley.  This way of thinking was also applied to the young Gabi, who neverthless in her own way managed to defy it.
When she was 15 years old, Gabi began her professional life as a dishwasher. As is often the case in the hospitality business, one thing led to the next. She helped out in the kitchen, was a pantry chef, and eventually moved to the bar where she started as a waitress. Since she enjoyed being around people, the change suited her well. In the bar Gabi became the apple of the eye of the young carpenter, Reinhard Kirschner. He was quite smitten with the lovely, young girl at the bar, but he had to work a little before he could win her over. No problem for the young Reinhard who is known for being strong-willed and straightforward. They got married in 1987.
With Reinhard, Gabi had a man full of visions and ideas at her side. Where others saw a green meadow, he saw their own restaurant - the "hiasl's stubn". Gabi rolled up her sleeves and took the risk. It was to be the beginning of a busy journey, the result of which is today's Hotel Gabriela.
During the construction, not only the "Hiasl's Stubn" grew, but also Gabi's belly. In 1988, son Gerald sealed the young happiness. Gabi was also pregnant when the "Hiasl´s Stubn" was converted into a hotel in 1992 - this time with daughter Jasmin, who fell into the turbulent life of the family after just five months of pregnancy.
In the following years our Gabi was mother, waitress, chambermaid, iron, hiking and travel guide, office worker - in other words, she was wherever she was needed. She hired the staff, lovingly decorated the house and took care of the flowers and herb garden. Even though the Gabriela now has 36 employees, Gabi is still at the front and helps wherever it is necessary - and as always from morning to night.
In the first few years she sometimes took our guests to her hometown by bus. There they had a snack and singing in the garden of their family and even the people of Langesthei could see that the former "girl" from the Paznaun Valley had learned a lot. Today Gabi is the eponymous hotel manager of our family-runing hotel. Which hasn't changed the fact that she does the dishes when necessary. Without her, we would never have made it all!