Open Gallery

Gabriela Kirschner
Manager & Herbal Specialist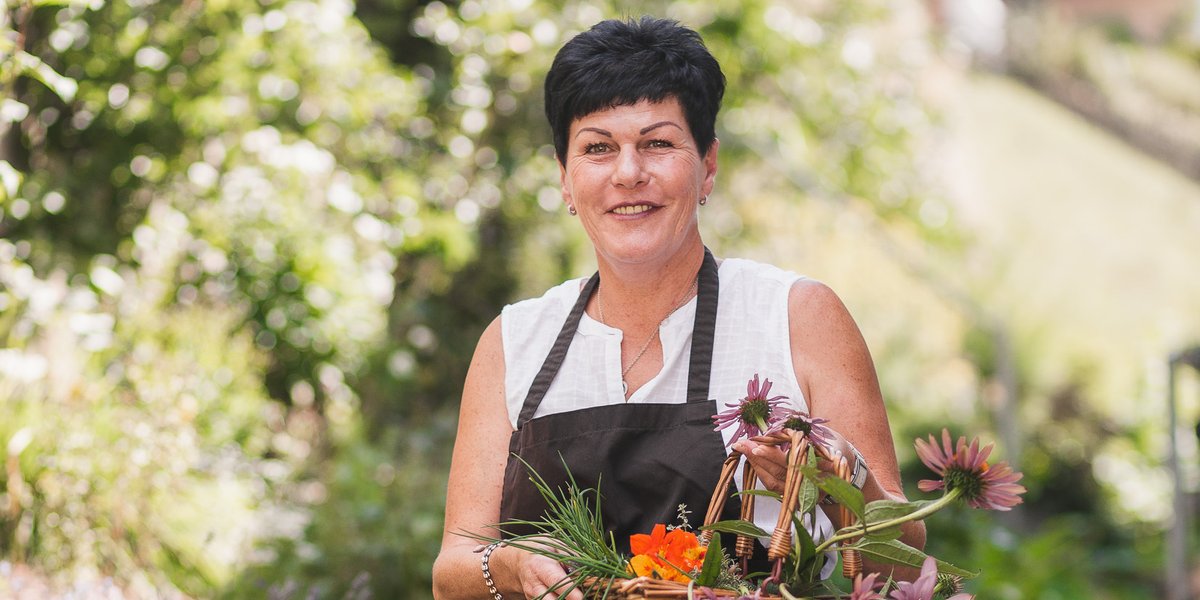 From Dishwasher
To Hotel MAnager
"You can achieve a lot
if you stick together."
"A girl doesn't have to learn anything!" That's how they used to think in Langesthei, a tiny village with only a handful of residents deep in the Paznau valley.  This way of thinking was also applied to the young Gabi, who neverthless in her own way managed to defy it.
When she was 15 years old, Gabi began her professional life as a dishwasher. As is often the case in the hospitality business, one thing led to the next. She helped out in the kitchen, was a pantry chef, and eventually moved to the bar where she started as a waitress. Since she enjoyed being around people, the change suited her well. In the bar Gabi became the apple of the eye of the young carpenter, Reinhard Kirschner. He was quite smitten with the lovely, young girl at the bar, but he had to work a little before he could win her over. No problem for the young Reinhard who is known for being strong-willed and straightforward. They got married in 1987.
Mit Reinhard hatte Gabi einen Mann voller Visionen und Ideen an ihrer Seite. Wo andere eine grüne Wiese sahen, sah er ihr eigenes Restaurant – die "hiasl's stubn". Gabi krempelte die Ärmel hoch und ließ sich auf das Wagnis ein. Es sollte der Beginn eines arbeitsreichen Weges werden, dessen Ergebnis das heutige Hotel Gabriela ist.
Während des Baus wuchs nicht nur die "Hiasl's Stubn", sondern auch Gabis Bauch. 1988 besiegelte Sohn Gerald das junge Glück. Auch beim Umbau zum Hotel 1992 war Gabi schwanger – diesmal mit Töchterchen Jasmin, die bereits nach fünf Monaten Schwangerschaft ins damals turbulente Leben der Familie purzelte. 
In den nachfolgenden Jahren war unsere Gabi zeitgleich Mutter, Kellnerin, Zimmermädchen, Büglerin, Wander- und Reiseführerin, Büroangestellte – sprich sie war überall dort, wo sie gebraucht wurde. Sie stellte das Personal ein, dekorierte liebevoll das Haus und kümmerte sich um Blumen und Kräutergarten. Auch wenn das Gabriela heute 36 Mitarbeiter zählt, ist Gabi nach wie vor an der Front und hilft überall mit, wo es notwendig ist – und das wie immer von früh bis spät. 
In den ersten Jahren fuhr sie manchmal mit dem Bus mit unseren Gästen in ihren Heimatort. Dort wurde im Garten ihrer Familie gejausnet und zu gesungen und selbst die Langestheier konnten sehen, dass das einstige "Madl" aus dem Paznauntal viel gelernt hatte. Heute ist Gabi namensgebende Hotelchefin unseres familiär geführten Hauses. Was nichts daran geändert hat, dass sie bei Bedarf den Abwasch macht. Ohne sie hätten wir all das nie geschafft!